PhoneLog for iPad helps you store details about phone calls you have made or received — who you called, when you called and what was said on the call etc. This is particularly useful when you have conversations with utility companies, financial institutions or anyone else where you need to keep a quick record of the conversation. It's also great if you work in a small business and need to take notes of callers so that you or other people can get back to them later.
It works with the apps you already have on your iPad — you can retrieve information from your Contacts, store events in your Calendar and add Reminders to call people back. It also provides a timer so you can keep track of how long you've been on a call.
You can use it to sync your call notes between multiple iPads and with Macs that are using the PhoneLog Pro app.
Table of Contents
Main Menu
When you first open PhoneLog for iPad you are presented with the Main Menu. From this menu you can access all of the app's features including creating new Call Logs, managing existing ones, getting help and sending feedback.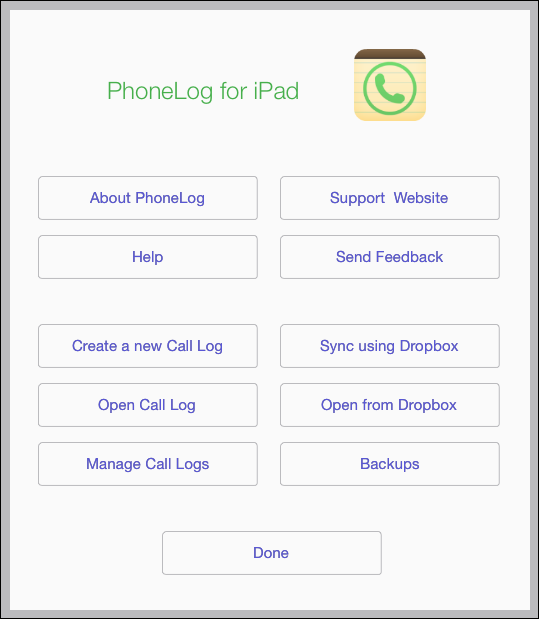 You can also navigate to this screen at any time by using the Menu button on the top left of the Call Log screen when holding the iPad in landscape mode (ie when the width is greater than the height), or by tapping on Calls when in portrait mode and then Menu.
Call Log Screen
The main screen in the app is the Call Log Screen. The list of previous calls appears on the left and details about a particular call that is selected appears on the right. The fields on the right are editable.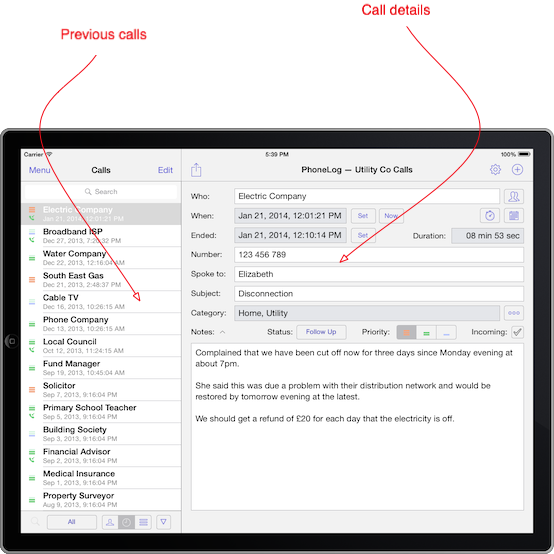 Creating a new Call Log
Tapping on "Create a new Call Log" from the main menu will create a blank new call log and ask you to give it a name. You can use any name here so long as it hasn't been used already for another call log. You can have separate call logs for different purposes — but one only of which can be open at once. For example you could have a log for calls made for Household purposes, another for Work calls and another for Financial calls. Just give each a different name.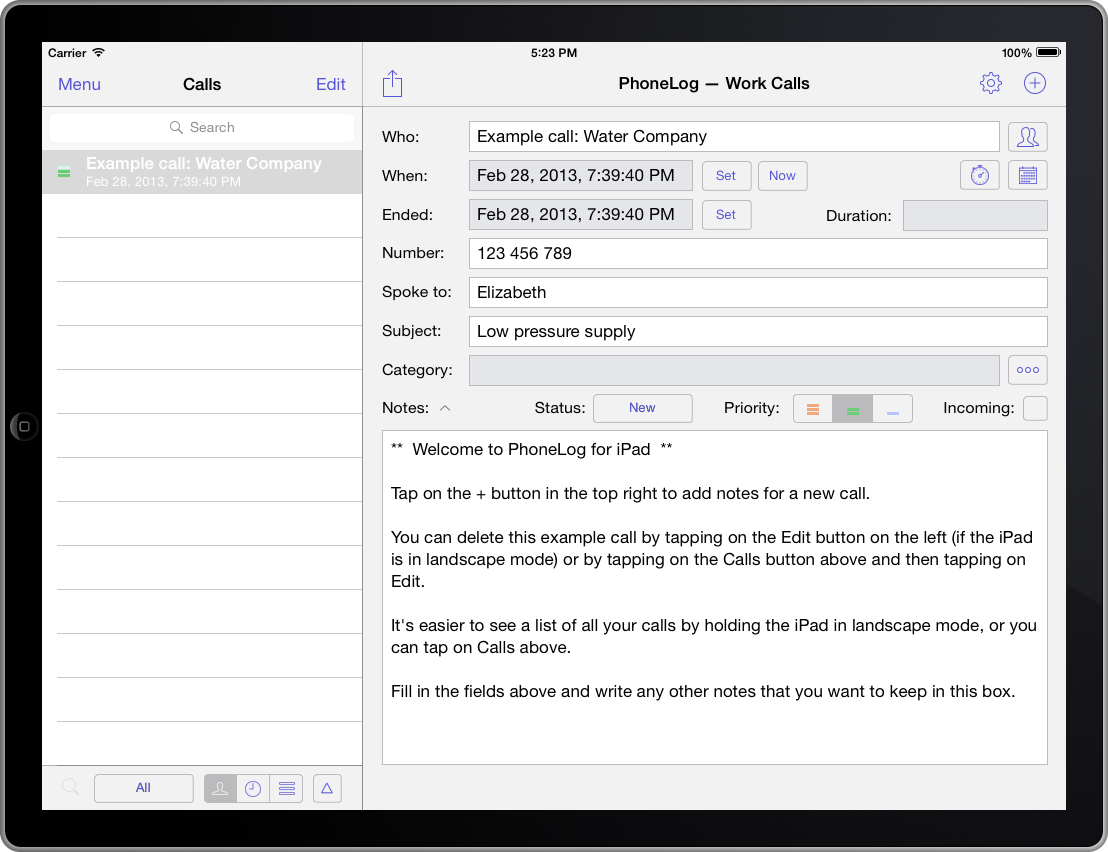 Opening an existing Call Log
Tapping on "Open Call Log" from the main menu shows the following screen which lists all the call logs stored on your iPad. Choosing a call log to open will close the currently opened one and open the one selected.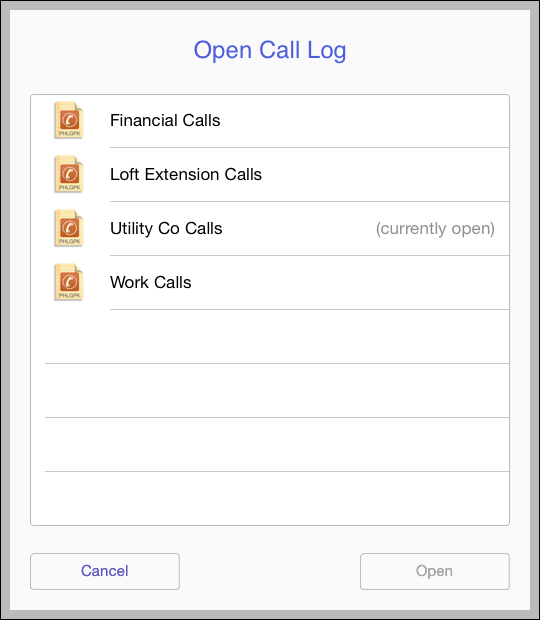 Managing existing Call Logs
Tapping on "Manage Call Logs" from the main menu shows the following screen where you can manage the call logs already stored on your iPad. You can rename, copy and delete logs.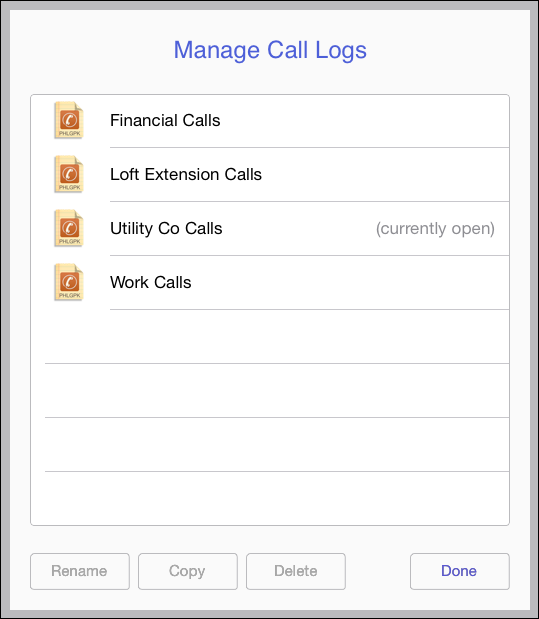 Entering a call
To create a record of a new call you have made, press the "+" button at the top right of the Call Log Screen and start typing in the fields on the right hand side:
Who:
The person or company you had a conversation with.
When:
When the call took place. You can press the "Now" button to set the time to now.
Number:
The phone number you dialled.
Spoke to:
The person you spoke to - eg the call centre operator.
Subject:
The subject discussed on the call.
Category:
Any category(s) you would like to assign to the call.
(These are user-defined — see here.)
Status:
The status for the call - eg On Hold, Follow Up, Closed etc.
(These are user-defined — see here.)
Priority:
Choose from High (3 orange bars), Normal (2 green bars) or Low (1 blue bar).
Incoming:
Check this box if the call is incoming rather than outgoing.
Notes:
Any notes you wish to record - eg what was said, what needs to be followed up etc.
Deleting a call
Select the call that you want to delete in the list on the left hand side and swipe left to reveal the Delete button. Alternatively, you can tap Edit at the top of the list and tap the red delete circles.
Searching for a particular call
Click on the magnifying glass in the bottom left of the call list to reveal the search bar. It will find calls if the text matches in any of the fields. So even if the text is mentioned deep in the notes field the call is returned as matching.
Choose "Category Only" to restrict your search to just the Categories in a call and not the full text. See also Categories.
Sorting the calls
The calls can be sorted by who they were made with, when they were made or what priority they had. Use the buttons beneath the call list to change the current sort type and whether to sort ascending (up arrow) or descending (down arrow).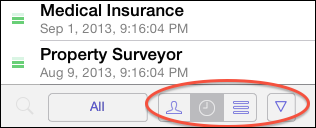 Call Timer
Press the stopwatch button to start the timer ticking when you make a call — press it again as the call ends. The "Ended" date/time field and the duration fields are automatically calculated.

While the timer is running the duration is displayed in blue and you are free to go to any other call and edit or view the details. You can return to the call with the timer by tapping the button at the botton of the screen. You cannot stop the timer unless you are viewing the call responsible for the timer.
Using Contacts
Click on the person icon beside the Who field and PhoneLog displays a window filled with all your contacts and groups from the Contacts app. Just choose the one you want and it will fill in the fields automatically.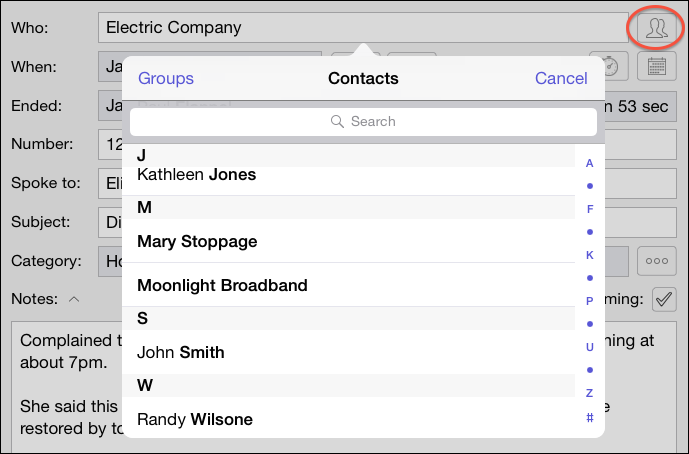 If you have stored a company name with the contact in the Contacts app you can choose to put the company name in the Who field and the name of the contact in another field — usually the SpokeTo field.
Using Calendar & Reminders
PhoneLog makes it convenient to record when you first made a call and also to set tasks to remind you to make follow up calls.

Tap the calendar button to the right of the stopwatch button to add either an event to the Calendar app so you can have a record of when the call was made, or a task to the Reminders app so you can be reminded to make a follow up call.
Note: You cannot add tasks to the Reminders app when using iOS 5 or earlier.
Adding Events to the Calendar app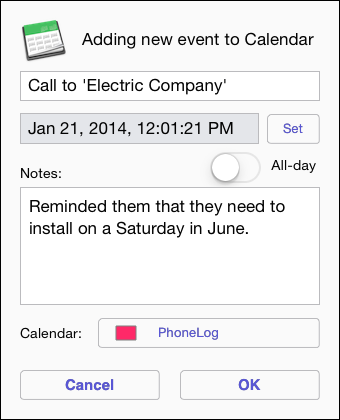 After choosing Calendar Event a dialog box appears to gather more information. It will be pre-populated with information in the title or notes fields depending on how you have configured things in the Preferences window. You can change the notes for the event or change the date or time.
The events can appear separately in their own PhoneLog calendar or in any existing calendar you like — just choose from the dropdown menu.
Adding Tasks to the Reminders app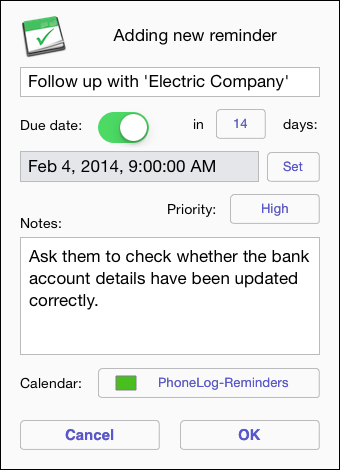 Adding tasks to the Reminders app is very similar to adding events but you have a few more options. You can specify whether the task is completed already and you can specify a due date for a reminder. This is very useful to remind you of follow up calls you have to make.
You cannot add both tasks and events to the same iCloud calendar, so by default PhoneLog uses a calendar called "PhoneLog" for events and one called "PhoneLog-Reminders" for tasks.
Calendar Syncing
If you don't already have a calendar called "PhoneLog", PhoneLog will automatically create one the first time you use it to add an event or task. This will be a local calendar in Calendar or Reminders (one that appears as "On my iPad") and it won't automatically sync to your iCloud account.
If you would like events to appear in a calendar that does sync with iCloud then make sure you have iCloud set up properly on your iPad and then create a calendar yourself in the Calendar app by bringing up the Calendar list, going to the iCloud section, tapping Edit then tapping Add Calendar.
Similarly, if you want tasks to appear in a list in the Reminders app that does sync with iCloud, then create a new list by going to the Reminders app, clicking Add List, then choosing your iCloud account and giving it a name.
You can call the new calendar or list anything you like and then choose it from the dropdown menu when adding events or tasks in PhoneLog. If you call it "PhoneLog" then PhoneLog will use it as the default when adding new Events. If you call it "PhoneLog-Reminders" then it will be used automatically as the list for new tasks.
Configurable Fields

Use the Preferences window to change the names of certain fields and even to make them visible or not. You might want to change "Subject" to "Reference" or something else more relevant to you, or you might simply want to hide the "Spoke to" field.
Configurable Categories
Tap the "..." button to the right of the Category field to enter categories from a user-definable list: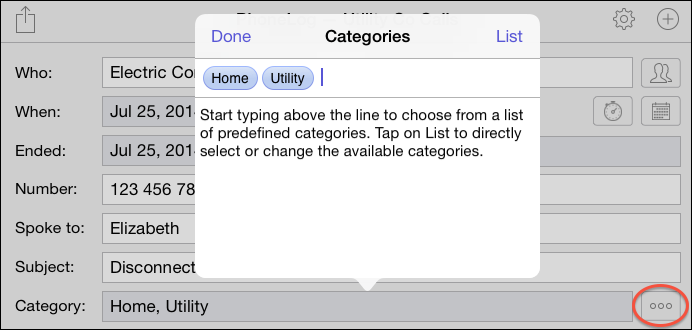 You can type directly into the field at the top if you know the available categories. It will only allow you to enter valid categories that haven't already been entered. Matching categories appear beneath so you can select them after only a few letters are entered.
Alternatively, you can tap List and a new screen appears with the complete list of categories. You can use the on/off switches to choose which ones to apply to the call.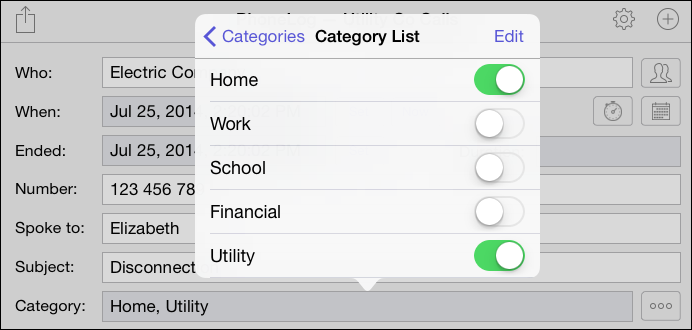 Tapping on a category name will allow you to rename it or delete it. Tapping on Edit will allow you change the ordering, add new ones or delete multiple categories at once.
Each call log can have a different category list.
Configurable Call Statuses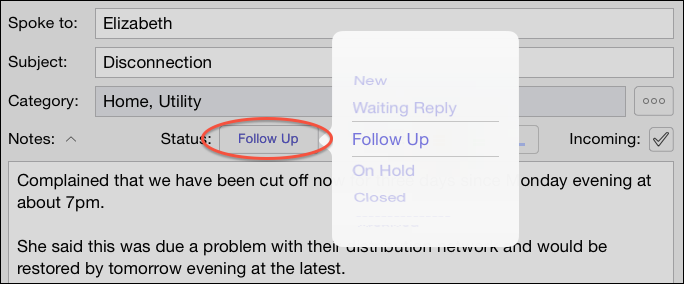 You can assign a status to each call so that you can keep track of those that have been completed, need follow-up, waiting reply etc.
The list of statuses can be changed by going to the "Statuses" tab in the Preferences window. You can't change the New or Archived statuses as they have a special meaning. 'New' is the status given to calls that you have just added to PhoneLog and not assigned a status to yet; choose 'Archived' if you have finished with a call and don't anticipate having to deal with it again.
Filtering on Status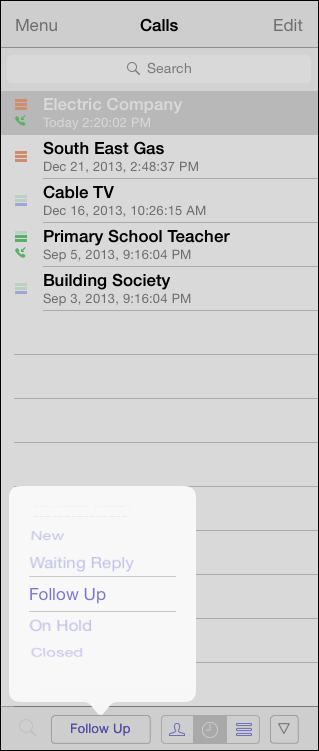 Use the status filter drop-down located beneath the call list to restrict the calls that are displayed to those with a particular status. Eg, you can choose to show only calls for which you need to ring people back, by choosing to filter for the 'Follow-up' status.
Archived Status
When you assign the Archived status to a call, it becomes greyed out in the calls list. You can then use the status filter dropdown to show only archived calls or non-archived calls. This is useful when you are finally finished with a particular call and no longer want it cluttering up the call list. The details of the call are easily displayed by choosing to see the archived calls, but you can hide them day-to-day while you use PhoneLog by using 'Non-Archived' in the status filter.
Priority Level & Incoming/Outgoing Flag
Some calls are more important than others. You can give the call one of three levels of priority — High (3 orange bars), Normal (2 green bars) or Low (1 blue bar).

Tick the Incoming checkbox when you are recording details about a call you received, rather than a call you were making. Icons in the call list allow to easily see which calls are high priority or which are incoming rather than outgoing.
Maximizing Notes

To make viewing and adding long notes easier, you can use the zoom notes button (up arrow) to increase the size of the notes area. Use the unzoom button (down arrow) to reset the size to normal.
Field Autocomplete

There's no need to repeatedly enter the same information into PhoneLog.
When typing into a field the autocomplete feature will prompt you with suggested completions that you have used before in the same field — saving you time & effort.
This feature can be turned on or off in the Preferences window.
Actions
Tapping on the action button (the square with the arrow) in the toolbar at the top presents the following menu of assorted actions that can be used to send call information to other apps, print, undo changes and copy or duplicate calls.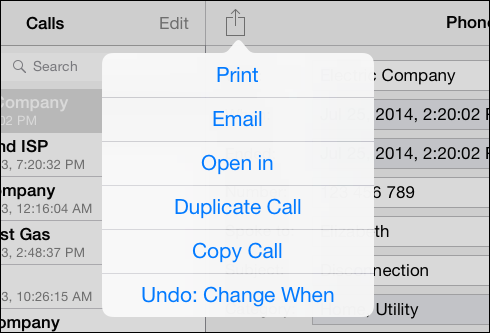 Duplicating calls allows you to quickly start to take notes on a new call by starting from a copy of an existing call.
Copying a call will allow you to paste it into this call log (same as duplicating) or into another call log. Use the Main Menu to open the other call log and then choose Paste Call from the action menu.
You can use the action menu to undo and redo changes you have made since you opened the call log. You can also undo or redo by shaking the iPad.
Backups
PhoneLog tries to prevent you from losing data, by saving changes automatically. It also stores previous versions of the call log as backups so you can view them later and revert back to an old version if you have made changes that you don't want to keep.
In the "Backups" tab of the Preferences you can specify how often the backups should be made and limit how much disk space the complete set of backups should take.
Tap Backups from the Main Menu to view and manage the currently stored backups.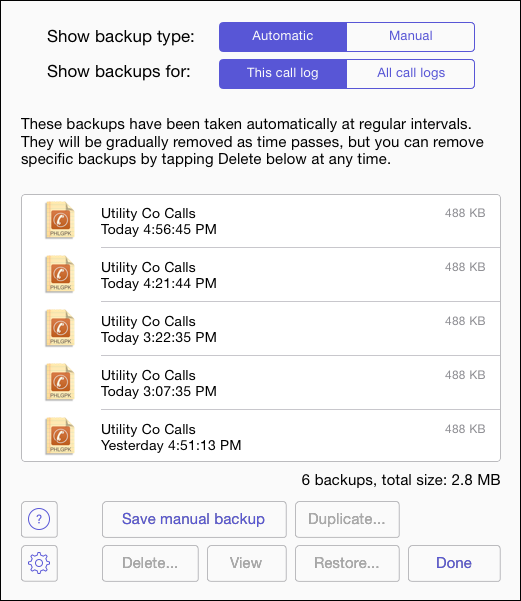 Choose the "All call logs" option to see the backups that have been taken for all call logs — not just the currently open one.
Automatic backups are taken at regular intervals and gradually deleted as time passes.
Tap Save Manual Backup to save a backup now for the currently open call log. You can view the manual backups by choosing Manual at the top. Manual backups are not automatically deleted.
Tapping Delete will delete any selected backups.
Tapping View will open a read-only copy of the Call Log as it existed at the time the selected backup was made. You can only view one backup at once. You can copy and paste particular calls from a backup to another call log using the Action menu in the toolbar at the top. This is useful if you have accidentally deleted something important. Use the buttons at the bottom of the Call Log Screen to navigate back to the backups screen or the original call log.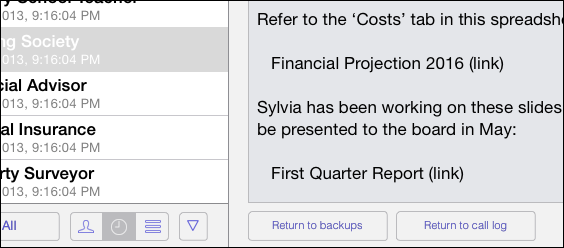 Duplicate allows you to create a new writeable call log from an existing backup. You will be asked for a name to save it with. This is useful if you want to start a new call log with the contents of another call log that it had at a particular time. It is also useful if you have completely deleted a call log by mistake.
Choose Restore if you would like to throw away the current contents of the call log and revert it back to the contents it had at a particular time — after you made a disastrous edit for example.
Note: If you have deleted a particular call log, then the backups will still exist until you delete them. The backups for which an owning call log cannot be found are displayed with an X. Use the Clean up button to delete these.
Syncing
You may sync call logs between Macs running "PhoneLog Pro" and iPads running "PhoneLog for iPad", or any combination of the two. If you are syncing between a combination of Macs and iPads, then you may use Dropbox to sync. If you are syncing between only Macs, then you can instead choose to sync using a shared folder such as a network mounted drive. This option is not available in the iPad version of PhoneLog.
You can have different call logs syncing using different mechanisms, but a call log can sync using only one method. So if you sync your "Work Calls" call log using Dropbox then it cannot also be synced using a shared folder.
Syncing using Apple's iCloud is not supported at this time, but is a possible future enhancement. Please send a feedback email if you are keen to see this capability implemented.
Quick steps to sync
Syncing a call log between one device and another is straightforward:
Open an existing call log, or create a new one on the first device — iPad or Mac.
Choose "Sync using Dropbox" from the File menu on a Mac, or the Main Menu screen on an iPad.
Complete the syncing setup process.
Go to the second device and choose "Open from Dropbox".
Choose the call log that was just synced from the list given.
Let the initial syncing complete.
Any changes you make on either device will be synced between them. Use the Syncing tab in the Preferences to enable or disable automatic syncing and other options.
| | |
| --- | --- |
| | Pressing this button (to the left of the toolbar at the top) will start a manual sync at any time. If the arrows have a dot in the middle then it means that automatic syncing is turned on, but you can still press it to start a manual sync. When a sync is in progress, the button will show an X — pressing this will cause the sync to stop. |
Please see the Privacy Policy for information on data security when syncing.
Restrictions
For technical reasons there are some limitations and some PhoneLog features that are not available when syncing:
Each call log can sync with a maximum of 15 devices (iPhones, iPads or Macs). This list of 15 devices can be different for each syncing call log. Syncing becomes slower and less efficient the more devices there are, so you should keep the number to a minimum to preserve storage space and bandwidth. If these limits are too restrictive for you, please contact us at the support email address at the bottom of this page and we will try to help.
Rich text notes are not supported when syncing. You will be asked to confirm changing the notes to plain text when you setup the call log to sync. Email, file and web links are still supported but not intermingled with the notes as they are in a non-syncing call log. They are moved to a separate field beneath the notes. You can drag and drop and cut and paste links into this section as normal.
There are some limitations when reverting a syncing call log back to a previous backup or version. Due to the distributed nature of the data when call logs are synced it is not straightforward to revert back to the contents that a call log had at a point in the past. Please observe the warning notices that appear onscreen when you try to do this.
Syncing a call log using Dropbox
Open the call log you want to sync and choose "Sync using Dropbox" from the Main Menu screen. This will present the following dialog: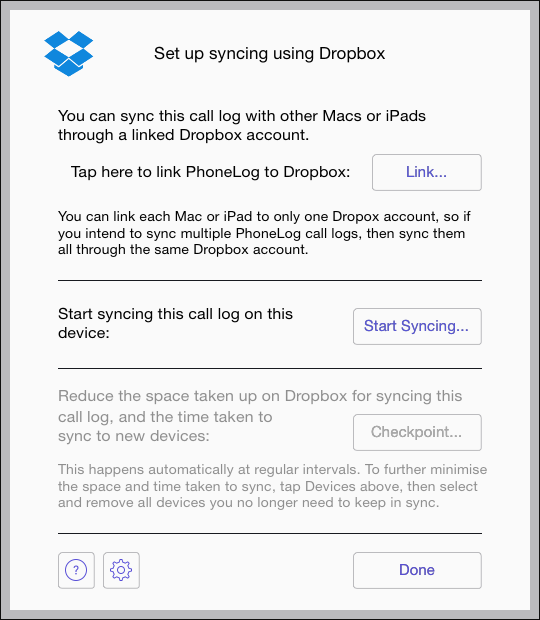 Before you can sync using Dropbox, you need to link to a Dropbox account. If you already have Dropbox on your iPad then you can link to the same account or a different one entirely. This is useful if you want to share call logs between people who you otherwise would not allow access to your Dropbox. You can set up a Dropbox account specifically to sync PhoneLog call logs and link to this one.
Press Link and then follow the instructions. A new dialog box should open and allow you to link to Dropbox. On switching back to PhoneLog the Start Syncing button should be enabled. If it is not, then power off and restart your iPad completely and try again.
Once it is linked, press Start Syncing.
A copy of the original call log is made for your safety and you will now be asked for a name to give it. It will be stored with your other logs in the app's Document's folder. You can delete this copy later once you are happy that syncing is working as you expect, using the Manage Call Logs screen.
The call log will then be moved to a hidden folder inside the app's Application Support folder so that it cannot be moved or renamed while it is syncing. It will then close and reopen and start the first sync.
The title bar of the call log will now also say "Dropbox" so you know it is a syncing call log.
Once the first sync has completed you can make changes to the call log as usual. Syncing will take place automatically if the Preferences are set that way, otherwise you can initiate a sync at any time by pressing the sync button (circular arrows) in the toolbar at the top.
Opening a syncing call log
Once a call log has been set up to sync, it can be opened on another device. Use the "Open from Dropbox" option from the Main Menu screen and select from the available logs given. You may need to link to the required Dropbox account first.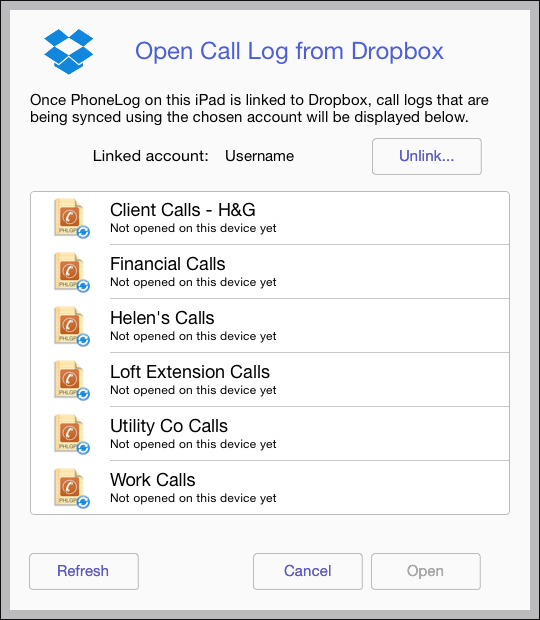 Once you have chosen the log to open allow it to complete its first sync before changing any data. This may take a while depending on how much data has changed since the last checkpoint.
Sync Settings
Tapping on Dropbox Sync Settings on the Main Menu screen for a call log that has already been set up to sync, will display the following window: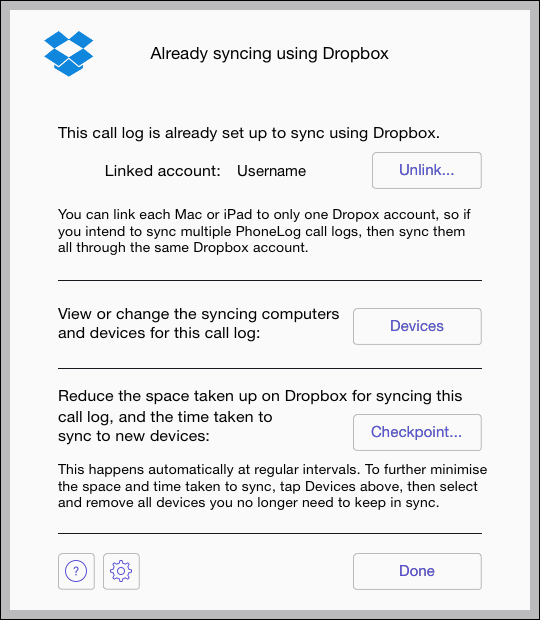 If you wish to stop syncing completely all call logs using Dropbox on this iPad, then you can tap on 'Unlink'. Please note: this will delete all call logs currently syncing using Dropbox from your iPad. You should ensure that any changes made to call logs on this iPad that you wish to sync to other Macs or devices, have already made it successfully to the other places. These changes will be lost and are not recoverable if you unlink from Dropbox before you have confirmed this.
If you wish to stop only this call log from syncing but leave the iPad linked with Dropbox, then choose 'Devices' and then 'Stop syncing on this device'.
You can also view or modify the devices that this call log is currently set up to sync with, or force a checkpoint.
Devices
Tapping on Devices will display the current Macs and iPads that are set up to sync with this call log. For each device, information is displayed showing the time of the last successful sync along with technical information that is useful when troubleshooting.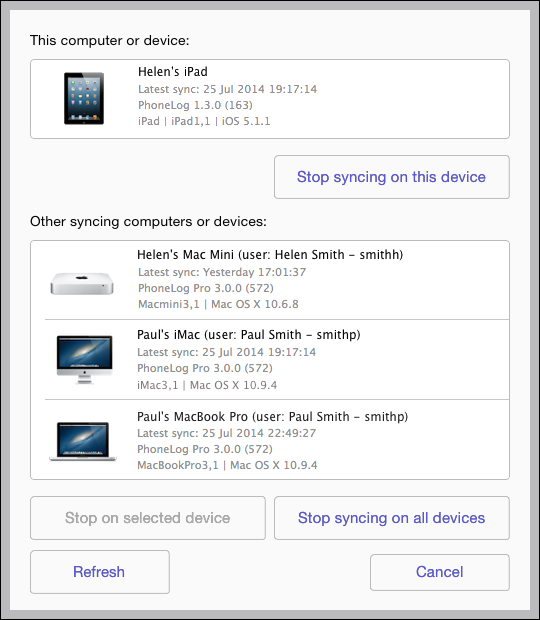 If a particular device has not synced recently then the date will appear in red. You should try to keep all devices relatively up-to-date or else the syncing process will become slow and inefficient, using unnecessary bandwidth and storage space.
Use the relevant buttons to stop syncing on the current device, a selection of devices, or all devices. Before syncing is stopped, you will be asked to save the call log locally on the iPad so you have a backup copy of it.
Checkpoints
An operation called a "Checkpoint" is made at regular intervals automatically. This reduces the space taken in your Dropbox account to store the data that needs to be synced to other devices. It also reduces the time and bandwidth taken to sync, especially when you open a syncing call log for the first time on a new device.
You can use the Checkpoint button to force a checkpoint at any time manually. This is useful if you know you are about to open a call log for the first time on another device and there have been lots of unsynced changes. But most of the time you do not need to worry about checkpoints — they happen in the background automatically.
Note: While a checkpoint is in progress, you cannot open the call log for the first time on another device using the "Open from Dropbox" button on the Main Menu screen. Wait until the checkpoint has finished. You also cannot force a checkpoint from two different devices at the same time.
Resolving conflicts
When you change the same piece of data on two different devices at the same time, or before the changes have had a chance to sync between devices, then conflicts may occur. PhoneLog resolves these conflicts automatically but sometimes it may be impossible to determine what you really meant. In this case you may be presented with a dialog box like the following: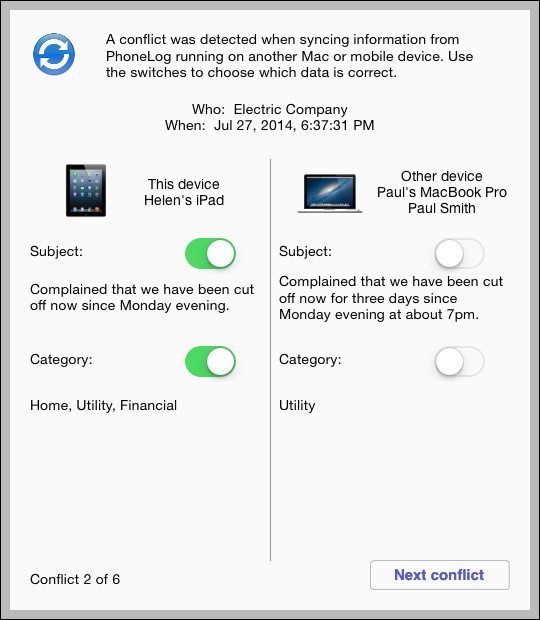 Use the on/off switches to choose which data is correct and go through each page until all the conflicts have been resolved. In the case of a conflict involving the notes field, you may edit the text and cut and paste between each version.
Syncing efficiently
To keep the syncing operation as efficient as possible, there area number of things that you can do:
Use the Devices button to stop syncing on any devices where it is no longer needed. The more devices are being synced the more time it takes, the more network bandwidth it requires and the more storage space at Dropbox or in a shared folder it uses.
Ensure that you keep all devices reasonably up-to-date by allowing each call log to sync regularly. If they haven't synced in a while this will be highlighted in red in the Devices window. You may also receive a warning message when you try to sync if there is a greatly out-of-date device.
Reduce the number of calls in each syncing call log. The more calls there are the bigger the call log is and the more time it will take to store on the shared folder or Dropbox. Use the Archived call status to flag calls that you are no longer concerned with and move them to another call log using cut and paste.
Troubleshooting the syncing process
Syncing data between devices is not a straightforward task. In rare circumstances, you may experience situations where data is not appearing correctly at another device. In which case the following tips may be useful:
Before suspecting an issue, wait until all syncing has completed on all the devices set up to sync with the call log. This may take considerable time in certain cases.
Syncing relies on accurate time-stamping of changes you make. The data/time settings on each of your devices must be correct for syncing to work properly. You may receive warning messages during the syncing process telling you that this is not the case, but it may not always be possible for PhoneLog to detect this. Please ensure that your date/time settings are correct including the settings for Daylight Savings.
If you are using Dropbox for syncing, and you have a good copy of the data on one device but it is not syncing correctly to another device:

First force a checkpoint on the good device using the Sync Settings window.
Wait for it to finish.
Unlink from Dropbox on the bad device. Take note of the warnings (all syncing call logs will be deleted, not just the one you are trying to fix).
Relink to Dropbox on the bad device and open the relevant call log from Dropbox.
Let it sync completely.

All the data from the call log on the good device should now be on the previously bad device.
---
Preferences
There are various preferences that you can change in PhoneLog. Each call log can have the preferences set differently.
| | |
| --- | --- |
| | Pressing this button (towards the right of the toolbar at the top) will display the following window with five different tabs: |
Fields tab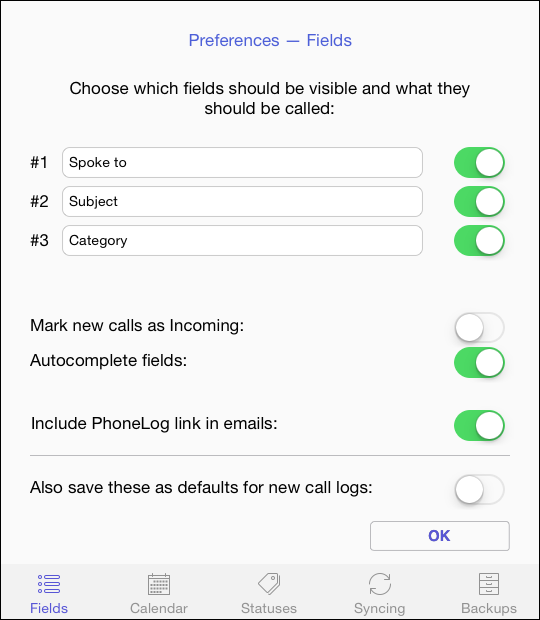 Use the first tab to change among other things, the names of certain fields and whether they are visible; whether new calls should be automatically marked as incoming; and control whether autocomplete is available in certain fields as you type.
Use the switch at the bottom to make sure that these preferences are applied to any new call logs that you may create in the future.
Press OK to apply the changes and close the window. Changes made to all tabs in the preferences window will be saved.
Calendar tab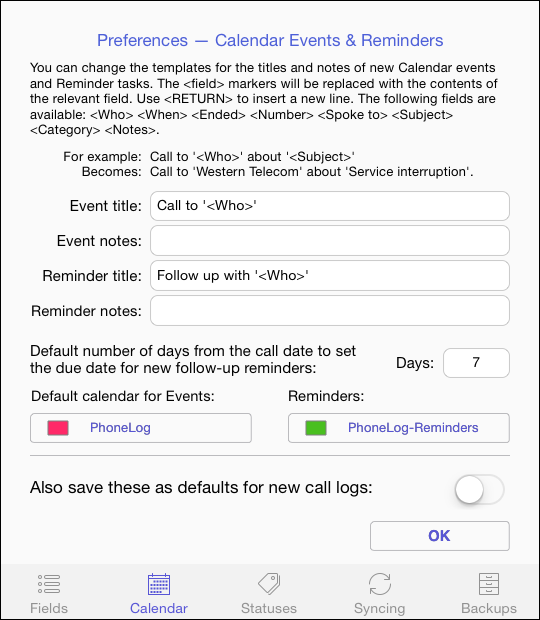 This tab allows you to set defaults for new events and tasks for the Calendar and Reminders apps. You can set the templates for the title and notes fields so that it automatically uses the values of fields from the call so you don't have to retype the information. You can also set the default number of days from the call date for which a task will be set.
Choose from the two drop down calendar lists for the default calendar that will be chosen for new tasks and events. Remember, you cannot add events and tasks to the same calendar.
Statuses tab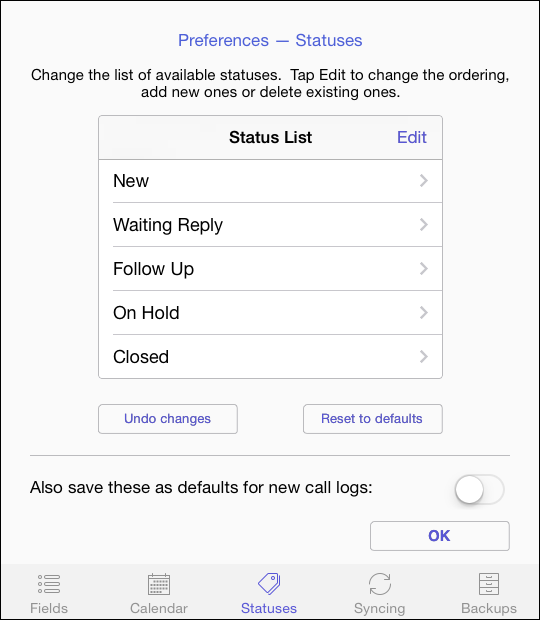 Use this tab to make changes to the list of call statuses such as Follow Up, On Hold etc. Press the edit key to change the ordering of the statuses, add new ones or delete existing ones.
Syncing tab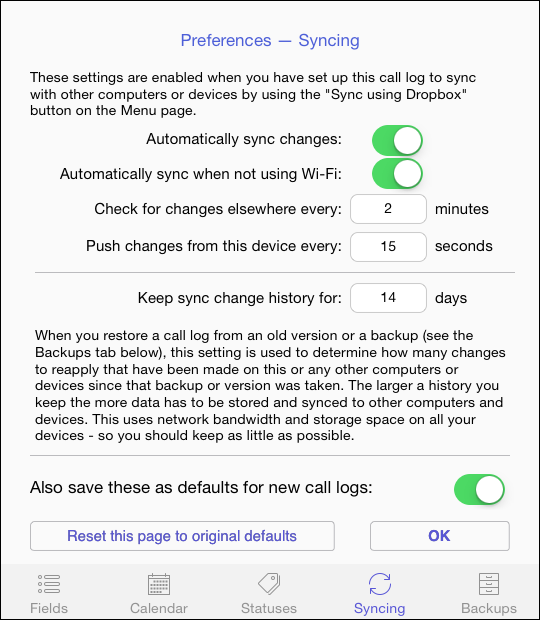 When you have setup a call log for syncing between Macs or iPads, see the section on Syncing, you can use this preferences tab to specify whether that syncing should occur automatically at regular intervals or manually.
If you choose automatic syncing you can specify whether you want PhoneLog to sync even if you are not using WiFi (eg you might be using a Mobile Data connection such as your cell provider).
You can also specify how many days of the sync change history to keep. When you restore a call log from an old version or a backup (see the Backups tab below), this setting is used to determine how many changes to reapply that have been made on this or any other computers or devices since that backup or version was taken.
The larger a history you keep the more data has to be stored and synced to other computers and devices. This uses network bandwidth and storage space on all your devices, so you should keep this number as low as possible.
Backups tab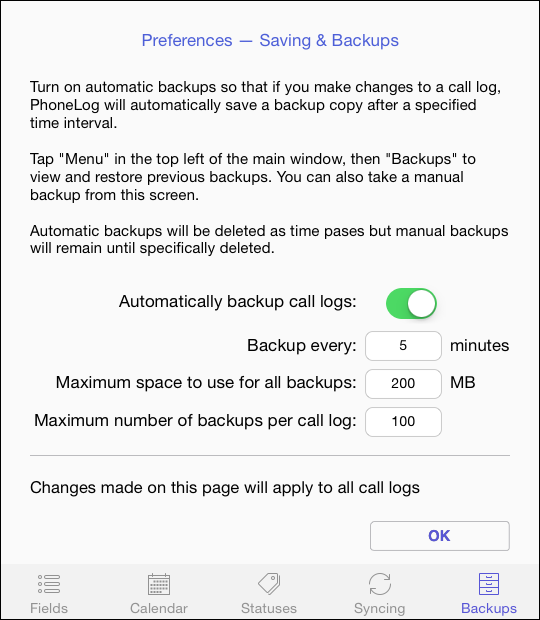 PhoneLog tries to prevent you from losing data, by saving changes you have made automatically at regular intervals. It also stores previous versions of the call log so you can view them later and revert back to an old version if you have made changes that you don't want to keep. Please see the section on Backups.
You can specify how often the backups should be made and limit how much disk space the complete set of backups should take.
If you have a problem with PhoneLog or a suggestion for making it better, and reading the documentation hasn't helped, then please feel free to send an email to

spelgasoftware [at] gmail [dot] com

and we'll do our best to help. Please include the version number of PhoneLog for iPad that you are using - this can be found by tapping on "About PhoneLog" in the Main Menu screen.
You can also send feedback directly by using the Send Feedback button from the Main Menu screen.
PhoneLog is Copyright © 2011-2023 Spelga Software Limited. All Rights Reserved.
Significant contributions were made by a number of people and open source projects in developing this suite of apps. Please tap on "About PhoneLog" in the Main Menu screen and tap on Acknowledgements for more details.